Identifies and extracts terms in your existing content

powered by Fodina TermCatch 

Finds and groups synonyms and spelling variants

powered by Fodina TermKlust 

Helps you to make fact-based decisions about terms to use – and terms not to use, visually

Publishes your standardized terms to termbases and writer support systems like Acrolinx

Runs in your web browser
The tools used by Fodina Termograph are also available as standalone services, even if they work best together!
Interested? Book a demo to see how it works!
BENEFITS of consistent and high-quality terms
Reduced misunderstandings by readers and translators
Reduced translation costs
Increased quality of both source and target language texts
Strengthened company profile
Improved findability
BUILD a solid, useful and value-adding terminology
Including term synonyms to avoid
Based on historic term use in your own content
MAINTAIN and update your terminology continuously
When new content is created and new terms appear
When new teams or domains start to write
Without introducing inconsistencies or unnecessary, conflicting concepts
How it works
Go from chaos to order in four simple steps with the Fodina Termograph.
COLLECT
Gather content from many different sources

Extract potential terms and metadata using Fodina TermCatch

Import the terms into Fodina Termograph, or export to other formats
STANDARDIZE
F

ind groups of possible synonyms among your terms, using Fodina TermKlust

Explore the suggested synonym clusters visually in Fodina Termograph

Decide which terms to use – and which terms not to use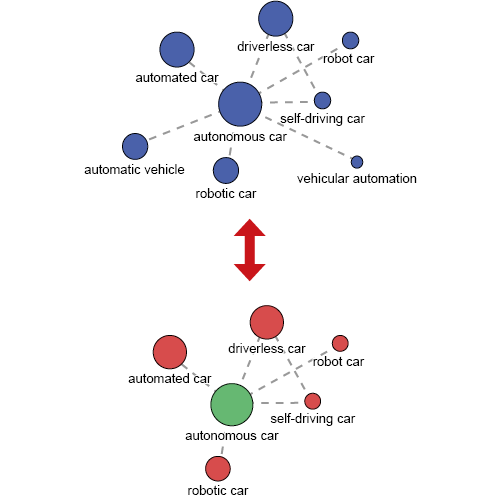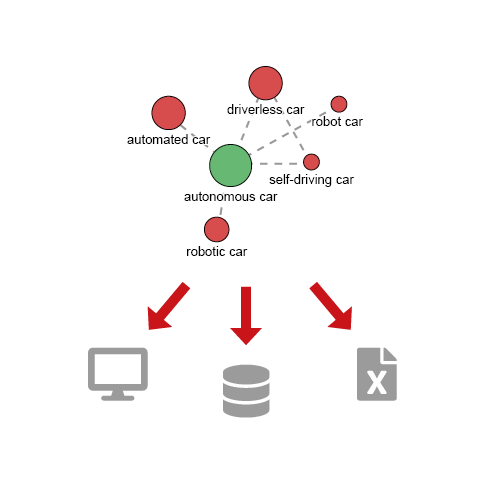 PUBLISH
Export your validated terms to Acrolinx, to other terminology databases, or to another format
Fodina Termograph stays in sync with your published terms, and finds relations between new terms and your published concepts
USE
This is where the real value of term standardization shows
Use your term decisions to get more consistent content, using Acrolinx as a part of the content creation process
Look up terms and term decisions in Acrolinx Term Browser